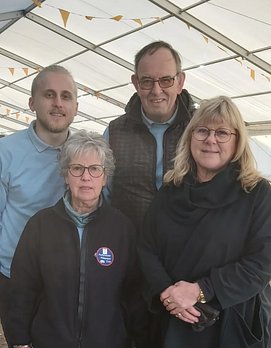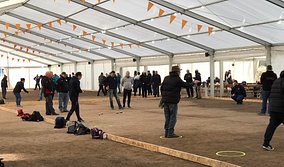 Sunnyfields Farm Marquee in Totton was transformed at the back end of 2021 into a magnificent 32 piste boulodrome. Now recognised as an official Petanque England venue, Southern Counties held it's first event on Sunday 28th November 2021. Since then, it has held National coaching sessions and an SCPA Open weekend on 26-27th February 2022.
Portchester fielded three doubles pairings, including a junior team. Pictured from left to right, we have the doubles team of Tom Williams & Mike Powlesland. And Trudy Bishop & Louise Williams.
The new terrain proved tricky even for the most experienced players in the competition. Mike & Tom finished the day as Bronze Consolage Quarter Finalists. Trudy & Louise finished as Pewter Consolage Semi-Finalists. And our Junior team; Lola & Finnley did well in their first competition as Pewter Consolage Quarter Finalists.
Thanks again to the SCPA team who put in a lot of hard work preparing this new venue for the region to enjoy!
Southern Boulodrome Open Doubles 2022