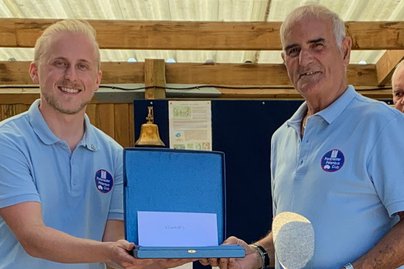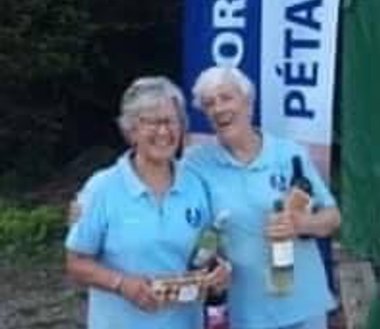 Runners Up, Trudy and Wendy
Tom and Kevin with their award
Apologies for the poor quality
of the photos
Portchester Petanque Invitational Plate 2021
This year's Invitational Plate at Portchester was held on Saturday 24th July. It turned out to be a glorious day albeit scheduled for rain and thunderstorms. We had a good turnout with 28 players forming the doubles tournament format, with teams coming from across the Southern counties and beyond, even Scotland. We had 3 games in the morning followed by 2 more games after lunch.
Along with my doubles partner, Kevin Jones, to have won the invitational plate is a great honor and achievement. We won in style, all 5 games on the day.
I have been a member at Portchester for about 3 years now, mostly coming on Sunday's. Most members may know me to have come along with my partner, Chantelle. In recent times, I have pushed myself to have been involved with the league team and with great pride. I have played in a few regional open competitions including the weekend of petanque at Worthing as well as internal club melees. I hope to have shown I can be a good player and would like to continue to improve my game as a shooter and to represent the club with prestige.
We now look set to defend the plate next year in what we hope will be another great day playing and socialising with players that ordinarily we would not get the opportunity to do so.
Thanks again to the committee for organising the event and for making it a great day for all involved. Tom Williams
OVERALL RESULTS
Winners: Tom Williams/Kevin Jones Portchester 5 wins + 22
Runners Up: Chris/Caroline Mann, Racing Club 4 wins +13
Third: Paul/Sheila Hayward Fareham 3.5 wins +24
Fourth Andy/Chris Barron Portchester 3 wins + 25
Arundel, Bedouins, Bordon, Cobbetts, Cranleigh, Fareham, Oxshott,
Portchester, Shedfield and Worthing.
Thank you to all the ladies who played at our Regional IWD in absolute scorching heat at Worthing. It was great to see so many of our ladies return to support this event as well as a number of new teams.
Congratulations to Angela Mary Brooks & Kath Knight who were crowned the 2021 IWD Champions beating a formidable team of Trudy Bishop and Wendy Hall from Portchester in the finals.
Thanks as always to Hilary Kidd for running a great competition and coping with unexpected changes to numbers and to the team at Worthing PC (especially Martin Gordon) for all their support throughout the day.
GOLD
Winners: Angela Brooks & Kath Knight Runners Up: Trudy Bishop & Wendy Hall
Semi Finalists: Daena Vincent & Sue McAleese and Frankie Bennet & Maureen Lee
SILVER
Winners: Diane Slater & Jackie Corp Runners Up: Janet Dalton & Hassi Leverett
Semi-Finalists: Diana Slark & Caroline Tuthill and Mary Ethrington & Lesley McMurdie
The pairings for the 5-game snake had been pre-drawn and were revealed by Hilary on the day.
The day had a very relaxed atmosphere as ladies soaked up the sun in between matches enjoying a catch up with friends - for some it was their first proper outing in 18 months.
Thanks to Hilary for sailing us so smoothly through the day.
Hassi Leverett